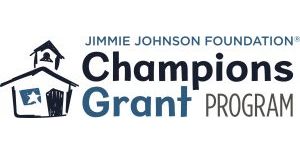 Jimmie Johnson Foundation Champions Grants are awarded annually to K-12 public and charter schools in and around Chandra and Jimmie's hometowns in California and Oklahoma, as well as their current residence in North Carolina.  Schools in eligible districts can apply for funds to help address their most critical needs in the following categories: Arts, Health & Wellness, Language and Literacy, School Improvements, and Science and Technology.
Since 2009, more than $6.1 million has been awarded in support of 139 projects.
The Champions Grant Program is possible thanks to our generous supporters.  CLICK HERE if you'd like to make a donation.
2020
5 projects totaling $219,830.41
California
EJE Academies
$65,428.28 to fully implement Imagine Learning's Language & Literacy research-based, blended learning intervention Program, to support our English Learners (TK-8) and students who struggle academically in literacy in TK-6 (non-EL).
North Carolina
East Mecklenburg High School
$37,335.40 to create a makerspace that provides students with opportunities to create, to solve real problems and to grow, as well as a safe space to fail and opportunities to try again and again.
Renaissance West STEAM Academy
$31,561 to provide critical materials, support and assessment tools for the Literacy Intervention Lab, Math Intervention Lab and STEAM Maker Space, so teachers can stress less about lack of resources and children will gain a quality educational experience that they need and deserve.
INVEST COLLEGIATE: Transform
$31,050 to purchase computers for students to ensure equitable access to a digital learning platform in an innovative learning environment.
Oklahoma
Muskogee Public Schools Librarians
$54,455.47 for "Racing to Build Home Libraries", which will allow district librarians to provide children of all ages with books to build their home libraries through book giveaways.
2019
8 projects totaling $250,620.09
California
Burbank Elementary School
$26,476.62 to create a MakerSpace Lab where students would be able to explore hands-on, STEM-related activities, as well as learn modern skills and technologies, independent problem-solving, and create authentic learning experiences.
Montgomery Middle School
$25,000 to purchase equipment for an indoor fitness room for students to work on strength and cardio fitness.  This grant proposal was initiated by four seventh grade students at Montgomery STEAM Magnet.
Perry Elementary School
$35,000 to create a regulation room where students can feel safe, cared for, and empowered. Charley's Regulation Room will consist of a variety of sensory and regulating items and students will be encouraged to use the room proactively and during times of need, such as when feeling overwhelmed or needing to de-escalate.
North Carolina
Cox Mill Elementary School
$32,000 to create a Critical Thinking Lab in our media center that includes coding and robotics, virtual reality, a 3-D printer, and brain games. The skills students learn by working in the lab will help teach them to think critically about their schoolwork and beyond.
Montclaire Elementary School
$31,000 to update independent reading materials, including purchasing new iPads to replace outdated versions that do not work with updated district literacy technology infrastructure and new, culturally relevant books to reflect the backgrounds of the student in the school.
Reedy Creek Elementary School
$37,643.47 to create Rocky's Learning Lab, a space for scholars to work individually or in groups to develop projects, presentations, grasp standards or learning targets outside of the traditional classroom.  It will include a technology lab and a media center with culturally relevant and interest level books, movable furniture, and new technology.
Oklahoma 
7th and 8th Grade Academy (formerly Alice Robertson Junior High)
$40,000 to add additional instruments to the band program that will enable more students to participate in junior high band. It is essential to have sufficient loaner instruments at the junior high level to meet the demand for all students who wish to participate.
Hilldale Lower Elementary School
$23,500 to create a sensory room with a combination of stimuli to help individuals develop and engage their senses.  The use of a sensory room will assist school staff in finding meaningful ways for students who have learning difficulties, developmental disabilities, sensory impairments, learning disabilities, autism and children who have experienced trauma to meet the very basic need to feel safe in their environment in order for them to be able to learn.
2018
7 projects totaling $308,584
California
Knox Middle School
$63,206.37 will provide the opportunity to convert the Knox library into one that inspires the students to become lifelong readers and learners. They will add furniture elements so students will view the library as a quiet place to read and research on campus.
WD Hall Elementary School
$22,096.71 to purchase a multi-lingual, digital marquee to increase community involvement and engagement with the school. As a result, both parents and students will become more involved with school events, which will increase the opportunity to succeed.
North Carolina
Phillip O. Berry Academy of Technology
$50,000 to create a MakerSpace, where students will engage in STEM-based, 21st century learning through critical thinking, collaboration and communication – all skills necessary to be "Next Step Ready." The revitalized space will support the school's STEM focus and collaborative learning, while still providing a welcoming space that promotes the love of reading.
R. Brown McAllister STEM Elementary
$39,726.38 to create a Sensory Lab, which will provide a universal sensory and social-emotional curriculum and materials, as well as small group and individual sensory and social-emotional intervention for all students. 
Steele Creek Elementary School
$48,555 to purchase new desktops for the computer lab, which will be able to accommodate the software and programs required by the district curriculum, as well as the ESL programs for English Language Learners (nearly 1/3 of the student population). The lab will be used for academic intensive support.
Oklahoma
KIPP Tulsa College Preparatory
$30,000 for technology items to support their new Amplify Science curriculum. This rigorous program aligns across all grade levels, and will support both math and science classrooms, as well as the Robotics program.
Pershing Elementary School
$55,000 to create an innovative and immersive laboratory that will allow students to collaborate with their peers using the STEAM framework, with a strong emphasis on new and upcoming educational technology.
2017
13 projects totaling $508,339
California
Albert Einstein Academy Charter School  – $25,815 to infuse physical fitness and academics to create an innovative break from traditional classroom learning. This action-based learning approach has been proven to increase cognitive function and provide a tool to help children focus and learn more efficiently.
El Capitan High School – $74,088 to support the school's transition to becoming a "Project Lead the Way" school for the computer science pathway. The requested technology is required to be able to utilize the PLTW program and resources.
Valhalla High School – $36,390 to provide students with access to professional grade industry standard cameras so they can gain the necessary career technical skills to be successful in both the pursuits of employment and postsecondary educational opportunities.
Wegeforth Elementary School – $40,098 to purchase high-quality books for classroom libraries that will increase student reading, engagement and achievement. K-2 guided reading books support the necessary small group teaching needed so students can independently self-select and enjoy books in their classroom library.
North Carolina
Allenbrook Elementary School – $28,035 to allow students to seek an opportunity to have access to additional STEM education opportunities. Based on student surveys, the school will create a STEM special area class using design thinking principles complete with a makerspace accessible for all students.
Beverly Hills STEM Elementary  – $44,525 to allow students to use cutting-edge technology and learn the real world applications of its use in today's workplace, thus better preparing them for future jobs in science, technology, engineering and mathematics.
Jay M. Robinson High School – $51,827 for a Future Ready Lab that will create an opportunity for students to partner with businesses and industry to identify opportunities to improve operations by applying engineering principles in real-world applications using 3-D printers and mentoring from industry experts.
Metro School – $31,500 to purchase seating to allow students to maximize time on task, attention to task, and have greater opportunities to participate in learning experiences off campus during community-based training when provided with adapted mobile alternative seating for individuals with special needs.
Sedgefield Middle School – $29,907 to create a Language Lab that will allow the scholars of Sedgefield Middle School to have an interactive, sensory driven, language lab including traditional and non-traditional seating situations, designated technology and software to assist in language acquisition, as well as materials specific for English Language Learners including piloting the PILOT translation kit.
W.R. Odell Primary School – $31,917 to increase student interest in STEM fields by exposing them to a wide variety of age appropriate robotics. The goal is to use the resources to build skills such as collaboration and problem solving while engaging students in technology.
West Charlotte High School – $46,401 to supplement the work going on to make WCHS a high school with ample and unique opportunities to innovate, explore, and create with computers, technology and computer science. This project will fund activities and resources that align with their Information Technology Academy but are available to all students.
Westerly Hills Academy – $42,799 to increase student engagement, teacher and student technology proficiency, and academic achievement. The project will create opportunities for students to cultivate self-confidence, promote inventiveness, and interest in STEAM and learning as a whole by opening a MakerSpace Innovation Lab.
Oklahoma
Muskogee High School – $25,037 to purchase a Wenger Legacy acoustical shell for the MHS auditorium for use with all music education rehearsals and performances. The shell will greatly enhance student hearing across the ensemble to encourage more mature music making decisions as well as enabling the audience to hear the performance.
2016
12 projects totaling $599,891
California
Cajon Valley Union School District – $92,325 to purchase bilingual books and multilingual training videos that will improve the delivery of parent training for families of English Language Learners, which will, in turn, directly impact parent abilities to support their children's education at home.
Cubberley Elementary School – $35,486 to purchase essential core books listed in TCRWP Field Guide to the Classroom Library needed to create robust classroom libraries so students can fully access this powerful literacy program.
Monte Vista High School – $70,554 to bring students much needed access to cutting edge technology that can revolutionize their learning. Virtual Reality will make challenging concepts such as relative size and distance of planets in the solar system, functions within the human body at the cellular level, and understanding of physics concepts, accessible and highly engaging for ALL learners, especially English Language Learners and Special Education students who may struggle with traditional single modality learning environments.
North Carolina
Mallard Creek Elementary School  – $49,237 to purchase classroom libraries that will allow students to increase their knowledge, comprehension and love of reading by having nonfiction, fiction and math books to read in their classrooms and to take into their homes daily.
Northwest School of the Arts – $99,304 to create an outdoor health & fitness course/trail that will bring engaging and exciting fitness equipment promoting physical, mental and social wellness for the entire student body at a school that currently does not have any fitness facilities or programs.
Piedmont Open Middle School – $74,526 to create a collaborative learning commons to support the need for academic collaboration and communication of Piedmont students who come from over 57 elementary schools. Because of the large number and vastly different cultures of the elementary schools the students come from, it is extremely important they have a place that purposefully facilitates their collaboration and emotional growth.
Randolph IB Middle School – $50,665 to purchase basic science tables and demo stations for sixth grade science students, as well as storage cabinets to house microscopes and models.
Windsor Park Elementary School – $24,438 to create an all-purpose soccer field. The new field will be the centerpiece of an initiative to increase healthy habits for life in students, build opportunities for more exercise and increased learning, and provide a place that students, families and the neighborhood community can enjoy year round.
Oklahoma
Grant Foreman Elementary School – $22,000 to provide additional outlets for physical fitness, including new playground equipment, exercise equipment and outdoor musical equipment. This will allow Grant Foreman to find more ways to engage students in music and movement.
KIPP Tulsa College Preparatory – $25,356 to provide intervention programs focused on the essential remediation of basic literacy skills. Through high volumes of reading throughout the day, choice and guided reading instruction and vocabulary development, students will be poised to grow to grade level and placed on a college-ready track.
Tony Goetz Elementary School – $26,000 to help enhance student learning by purchasing updated books for the school library.
Whittier Elementary School – $30,000 to repurpose existing areas of the school building to create a Family Resource Center. This will create a safe and more approachable space for parents to interact with other parents, students and teachers in order to provide them with a place to seek help and information.
2015
10 projects totaling $548,947
California
Lexington Elementary School – $64,480 to purchase linguistically appropriate reading materials, including bilingual books, for each classroom and simultaneous translation devices for parents to use to ensure students have the best possible chance to improve their reading skills.
Mira Mesa High School – $74,149 to upgrade and replace existing outdated equipment and tools for automotive program which will provide students with a leading edge to earn certification in electrical, suspension and steering and precision tool usage.
North Carolina
C.C. Griffin Middle School – $13,600 to purchase a specialty swing with padding underneath and a canopy overhead for students in the Intellectually Delayed-Severe classroom so they can access an outdoor classroom environment.
Charles E. Boger Elementary School – $81,537 to create a dynamic space in the media center where all students can work independently or collaboratively on creating, designing, inventing and building.
Crown Point Elementary School – $49,468 to provide each classroom with the necessary reading inventory to support student learning and engagement as well as to allow students to experience the joy of self-selecting books from a library of up to date literature.
Harding University High School – $25,983 to create an open, community space (Makerspace) with tools and technology that allows for students to tinker, create, collaborate, problem solve and innovate by turning their ideas into physical reality.
Independence High School – $62,807 for the Academy of Engineering to purchase the technology and tools necessary to support the National Academy Foundation model using Project Lead The Way career-focused curricula, collaborative learning environments and work-based learning experiences.
University Park Creative Arts Elementary School – $52,434 to create a track and interactive fitness stations in order to spark the promotion of healthy living and activities, whole child education and to give students a place to demonstrate improvement through movement" both academically and physically.
Oklahoma
Hilldale Public Schools – $96,525 to purchase much-needed technology for Middle and High School students in order to prepare them to become a critical part of the workforce.
Rougher Alternative Academy – $27,964 to develop a student-produced morning news show by purchasing the necessary tools and equipment.
2013
9 projects totaling $470,089
California
Cajon Valley Middle School – $53,290 to create an innovative computer science lab where students will learn computer programming and will produce educational apps for mobile devices
Johnson Elementary School – $50,000 to purchase new computers for the computer lab
Kumeyaay Elementary School – $45,799 to create an outdoor science classroom that will include a native plant habitat and a weather station
North Carolina
Lansdowne Elementary IB World School – $50,000 for a WeatherBug weather station and technology to integrate outdoor education into the existing curriculum
Northwest Cabarrus High School – $65,000 to revitalize their old, unsafe track
Sugar Creek Charter School  – $69,000 to create an outdoor learning center and natural play area
Oklahoma
Benjamin Franklin Science Academy (PHOEC Program) – $50,000 to implement STEM experiences and an outdoor classroom 
Oklahoma School for the Blind – $40,000 to create an apartment that students can use to develop the skills needed to self-direct their lives and live as independently as possible
Whittier Elementary School – $47,000 to purchase materials for a new, quality school library
2012
10 projects totaling $599,631
California
Construction Tech Academy – $47,476 to upgrade, preserve and certify the last remaining precision machine tool technology program in the district
Flying Hills Elementary School – $69,709 to build language and literacy skills with new iMac computers and Imagine Learning software
Santana High School – $77,195 to create a digital fabrication lab
North Carolina
A.T. Allen Elementary School  – $30,863 for a WeatherBug station
Billingsville Elementary School – $36,497 to create an indoor FITT Lab to help students be active
KIPP: Charlotte – $69,833 to purchase laptop computers for the school
Piedmont IB Middle School – $84,853 to revitalize the track and field areas
Oklahoma
Alice Robertson Junior High – $90,509 to renovate the junior high school stage 
Creek Elementary School  – $42,696 to create a fitness course and cooling station so students can get fit and healthy
Muskogee Public Schools – $50,000 for digital keyboard labs in two elementary schools
2011
13 projects totaling $521,198
California
Clairemont High School – $30,680.41 to upgrade and modernize a 53-year old woodshop
Granite Hills High School – $71,505.70 to update classroom technology to optimize lessons and increase student learning
High Tech High – $47,040 for a technology upgrade to increase student achievement
Magnolia Elementary School – $48,498.54 to purchase new computers to allow students to access the Imagine Learning English program
Point Loma High School – $25,342 to overhaul the Automotive Lab to revitalize the automotive industrial technology program
San Diego Educational Complex School of Science and Technology – $43,936 to purchase instructional resources to accommodate engineering and green technologies curriculum
W.D. Hall Elementary School– $35,467.53 to purchase technology intervention programs necessary to build student language and literacy skills
North Carolina
Charlotte-Mecklenburg Academies of Engineering (Five high school sites: Hopewell, Vance, Mallard Creek, East Mecklenburg, and Philip O. Berry High Schools)- $63,396 to purchase materials for the Academies of Engineering curriculum to prepare students for post-secondary education and provide them with skills and experience necessary to obtain entry level jobs.
J.V. Washam Elementary School– $45,000 Challenge Grant to create a new outdoor learning environment
Oklahoma
Alice Robertson Junior High – $25,207.31 to purchase supplies and materials for the pre-engineering program 
Harris Jobe Elementary School – $51,303.78 to build an outdoor learning environment and walking trail to allow for academics and physical activity
Muskogee Early Childhood Center – $3,499.90 to pilot a program for iPads in the classroom to enhance literacy and math skills
Sadler Arts Academy – $30,257.28 to expand an outdoor classroom and provide experiential STEM learning opportunities
2010
13 projects totaling $596,401
California
Chase Avenue School – $53,898 to build a running track
Emerald STEM Magnet Middle School – $98,833.78 to create Science, Technology, Engineering and Math Classrooms
Grossmont High School – $72,000 to renovate the performing arts facility and purchase additional equipment
Fulton K-8 School – $20,319 to replace computer lab equipment
Marston Middle School – $48,226.71 to upgrade the school woodshop
Mission Bay High School – $39,870.91 to integrate modern design technology into the school's Graphic and Website Design program
San Diego Unified School District – $87,271.92 ($10,768.90-Actual) to fund the Off Campus Integrated Learning Experiences (OCILE) Project.  (Due to the termination of the OCILE project in June 2011, the grant amount was reduced to fund items that could be used during the remaining program days).
North Carolina
Collinswood Language Academy – $45,947 to build a playground for first through eighth graders
KIPP: Charlotte – $54,000 to outfit science and math classrooms with SMART Boards and calculators 
Pressly Alternative School – $25,401 to provide seven SMART Boards and Laptops to enhance in-classroom learning through technology
Oklahoma
Cherokee Elementary School – $68,098 to develop a literacy program using literacy, technology and hands-on learning
Tony Goetz Elementary School – $25,038 to provide blinds and solar shades for each classroom 
Mitchell Elementary School– $34,000 Challenge Grant to build a playground
2009
27 projects totaling $922,469
California 
Chase Avenue Elementary– $19,500 to purchase a bilingual translation system to enable communication in multiple languages
Crawford High School– $32,495 to explore the use of alternative fuels with National Automotive Technical Education program
Crest Elementary School– $45,898 to create hands-on activities in Science, Technology, Health/Fitness and the arts, including after-school programs
Emerald STEM Magnet Middle School– $100,000 to create a Science, Technology, Engineering and Math Lab 
Granite Hills High School– $31,155 to assist with stadium renovations
Greenfield Middle School– $31,572 to provide safe lunch area equipment for students
Johnson Elementary School– $20,714 to create a health and wellness program to learn about healthy eating and exercise
Magnolia Elementary School– $27,915 to purchase student responders for interactive teaching
Multimedia & Visual Art School– $87,000 to create a high tech art fabrication lab that will allow students to design high-tech community-based projects 
Point Loma High School– $90,000 to provide exercise equipment for the new weight room facility 
Rios Elementary– $13,600 to purchase an online accelerated reading program
North Carolina
Ashley Park Elementary School– $62,061 to create a K-2 and a 3-5 Science Lab to enable students to learn through hands-on experiments and exploration
Collinswood Language Academy– $5,787 to provide one SMART Board and Laptop to enhance in-classroom learning through technology 
East Iredell Elementary School– $54,000 to construct a new playground to adequately meet the needs of all the students
JH Gunn Elementary School– $7,536 to provide two SMART Boards and Laptops to enhance in-classroom learning through technology
Metro School– $8,860 to provide one SMART Table to allow non-verbal students the ability to communicate with each other and enhance the learning environment
RB McAlister Elementary School– $3,725 to provide 7 ELMO Document Cameras to be used in conjunction with existing SMART Boards
Smithfield Elementary School– $64,914 to construct a new and safer playground for the students
Third Creek Elementary School– $3,714 to provide one SMART Board to enhance in-classroom learning through technology 
University Meadows Elementary School– $14,248 to purchase an accelerated reading program which will enable students to match their required reading with their specific interests
Oklahoma
Creek Elementary School– $31,684 to enhance the Johnson Mission Control Center, which will provide a unique learning environment that will tie together an existing space shuttle into a building
Muskogee High School– $30,000 to provide up-to-date science technology equipment for the labs
Muskogee High School– $9,900 plus 50 Samsung Netbooks to create a foreign language lab
Pershing Elementary School– $9,988 to assist with the creation of the parent/teacher resource room to strengthen the parent connections
Sadler Arts Academy- $41,936 to create an outdoor classroom as an additional learning environment
Tony Goetz Elementary School- $44,764 to create an outdoor classroom with a focus on literacy and the arts
Tulsa School District- $29,500 to fund a mobile instructional/communication vehicle for the district